It seems like everyone is building cedar planter boxes these days, so I decided that I would join in the fun.  I considered doing them the simple way that I have seen at several sites (DIYDiva, Ana White) but I wanted something a little more formal looking.  I think it took 10 times as long (oh the painting…)  but I am quite pleased with the result.  Also I was breaking in a new saw and I wanted to test the accuracy of the miter and learn its quirks on a reasonably forgiving project.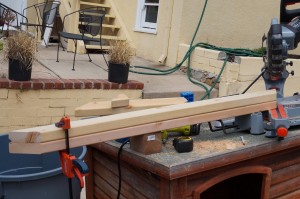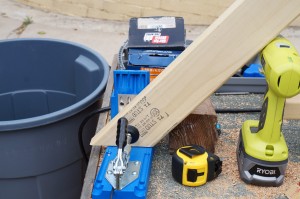 I have rather a fear of measuring things, so if I want them to be really accurate , I try to cut them at the same time.  This worked really well for this project where I was working with matched pairs of wood.
I used the Kreg Jig to join all the wood.  It is a little more tricky to join the mitered pieces, but it worked well.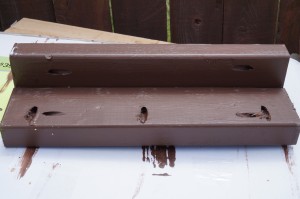 The side pieces were also pre-drilled with pocket holes.  Here I have 3 holes to join the corner pieces together, later I decided only 2 were needed. Also there are 2 holes on each end to attach the top and bottom.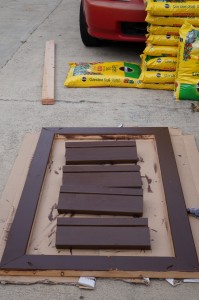 I painted most of the frame before I assembled it.  In the background you can see the spoils of MANY trips to the Home Depot's "Spring Black Friday" sale waiting to fill the boxes.  I bought about 50 cu ft total … I REALLY wish that I had gotten a picture of them all piled up.  The neighbor accused me of having a manic fugue state … he probably wasn't far from the truth.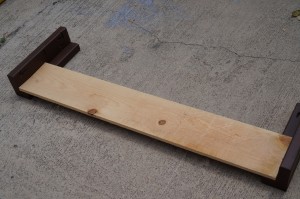 Because things were SO precisely measured, I assembled the sides before I attached them to the top.  Forget "measure twice, cut once", I prefer "measure zero times, and just make it all work" 🙂
Use the pocket holes to attach the sides to the top. (yes this top hasn't been painted yet .. I made 6 of these total and painted them at different steps just to confuse you!)
At this point this is what it looked like.  This is one of the "raised bed" ones I built initially so it only has a top rail, but no bottom rail.
At this point there was more painting to do and the upper set of side and end rails to attach, but we are getting there!