Really I didn't think It got any more basic than Thomson's WaterSeal.  The brand has been around as long as I remember.  So when my dad suggested it for my new deck I didn't worry about buying extra in case I ran out… I mean I was using an off the rack color, it wasn't going to disappear in the one or two months it took to finish all the decks at the duplex.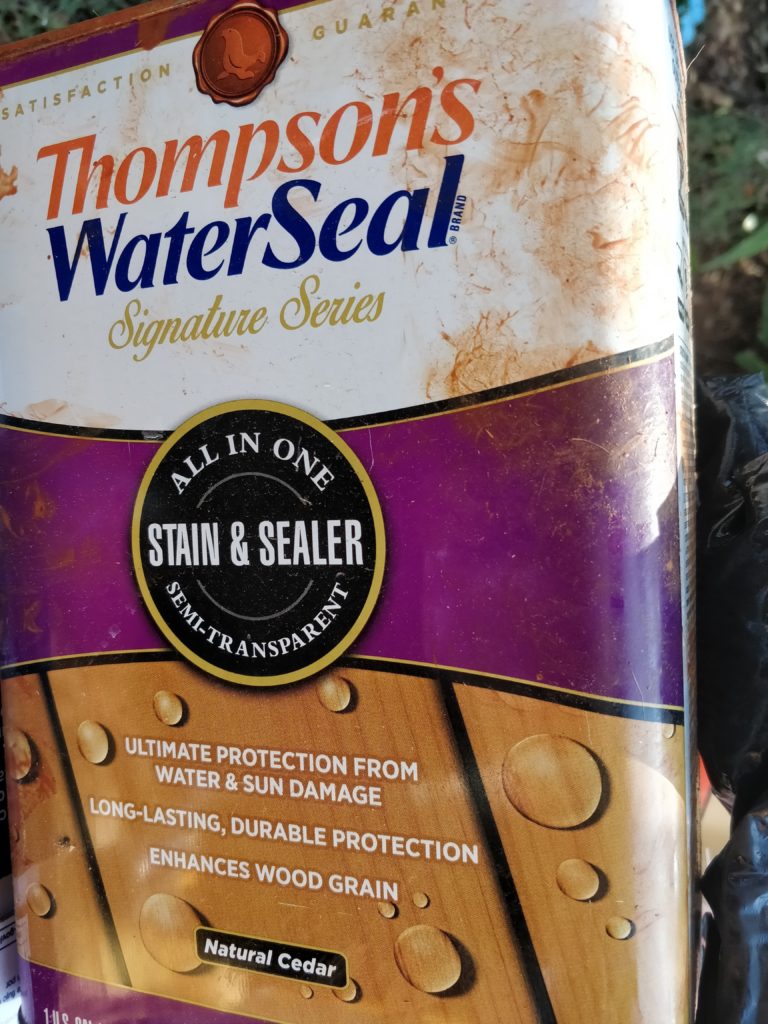 I actually was amazed how far that one gallon went.  I did a side deck (4×12) as well as the underside of the patio cover and the underside of the front deck.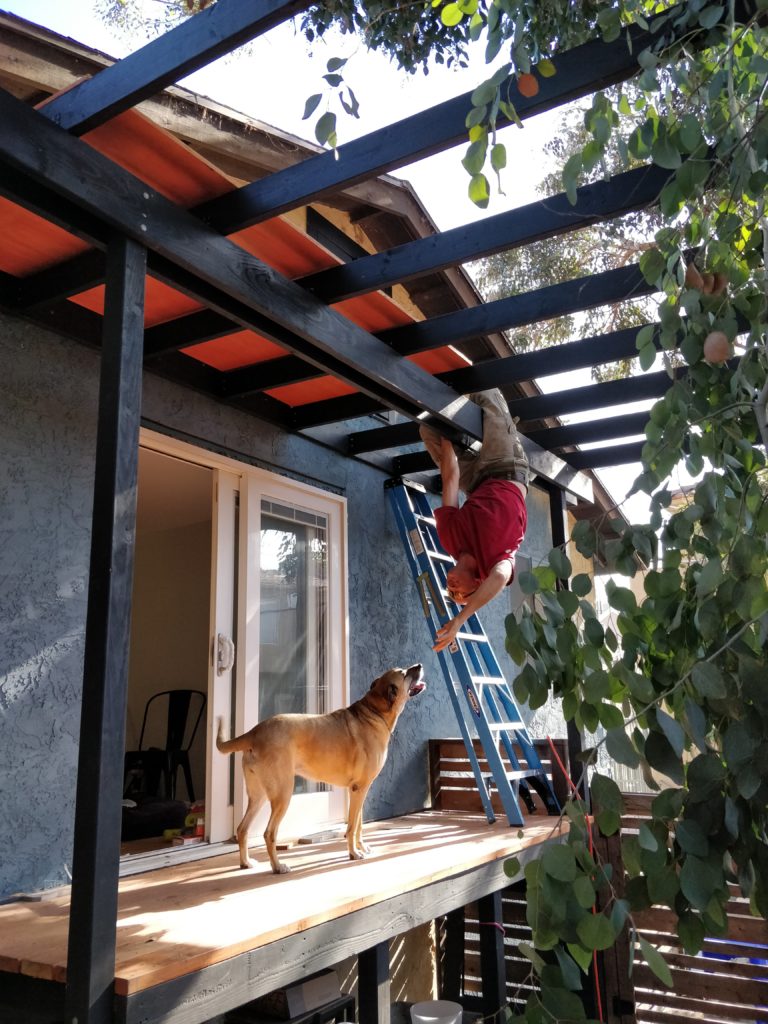 Interestingly the same product on the plywood ceiling and doug fir decking gives VERY different colors.  I love the striking orange, especially when viewed from the entrance. The dogs love using this deck as a lookout on all the people walking by.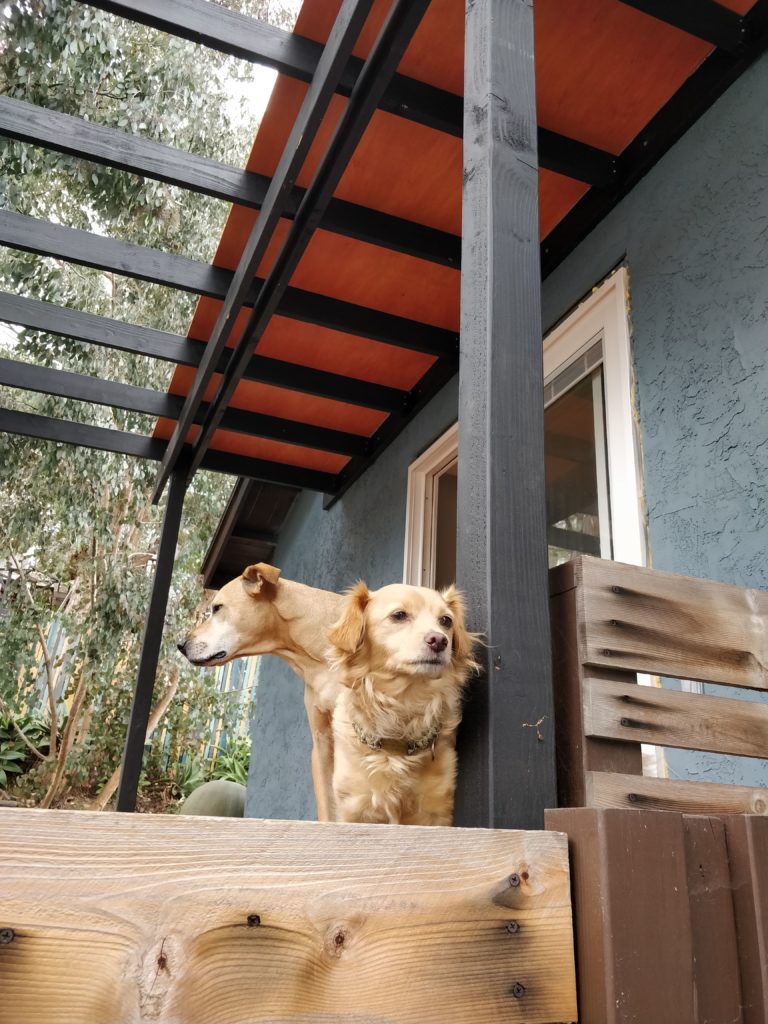 So I had guests arriving in a couple of hours and a freshly sanded deck that I definitely didn't want anyone walking across.  I managed to get the step and area in front of the door done before I ran out, so at least we could get in and out, but I really wanted to put furniture out onto the deck for the guests.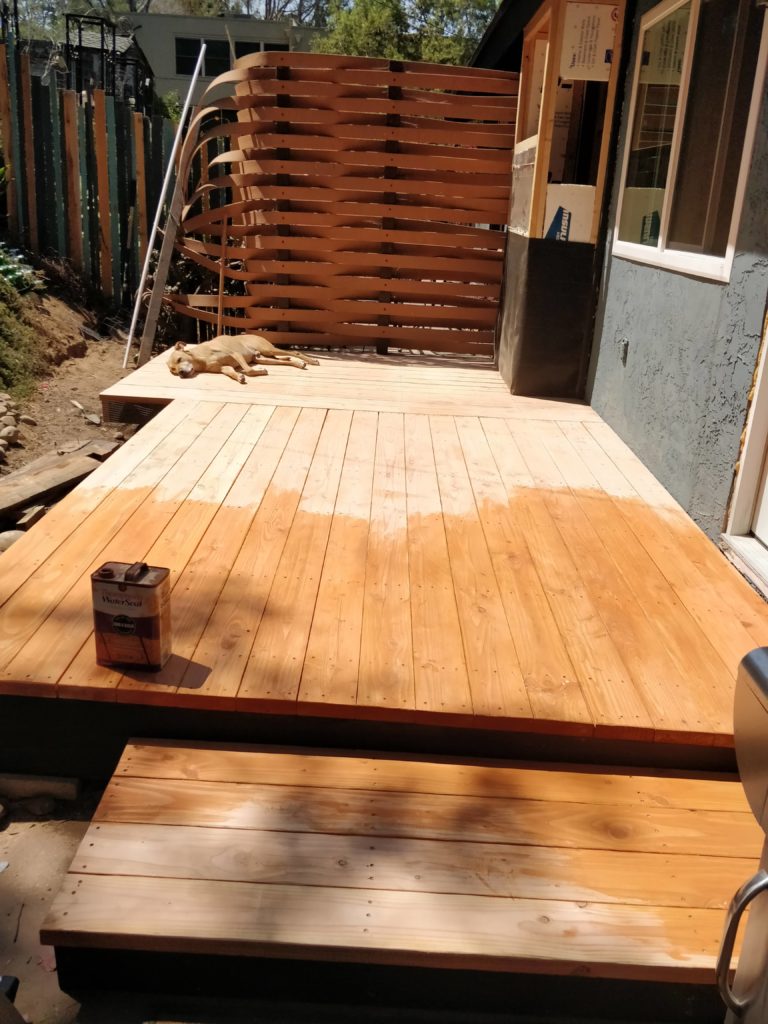 No problem, it was noon and I had several hours before anyone arrived.  A quick trip to Home Depot would be fine, the deck would be in the shade by the time I got back and it would only take an hour or so to get the deck stained.
So you can guess where this is going … Home depot is no longer carrying Thompsons products.  BIIIGGG sigh.  To make it worse I had already done an errand right by Lowes GRRRRRRRR!  I called my dad to vent and he reminded me about Dixieline which was way closer.
Dixieline definitely had lots of Thompson's products, but the names of the colors were just a touch off.   Woodland Cedar instead of Natural Cedar.  Had they changed the names when they left Home Depot?  Seriously?  I bought a gallon so I wouldn't have to come back if it was right.

So by the time I got home I had a crushing headache . I went to the Thompson's site and indeed the line they had at Dixieline was just ever so slightly different than the ones that USED to be at Home Depot and were now at Lowes!  Me and my headache laid down to consider the options.
In the end perfectionism won out over the headache.  I went to Lowes (it's a Trifecta, all three hardware stores in one day!).   But seriously all of these brands appearing and disappearing is getting downright annoying.  A month ago it was Minwax, also moving from Home Depot to Lowes.  I am not sure what the Home Depot strategy is, moving away from all of the legacy brands that have served us for generations, but there it is…
So the deck is finally stained, but I finished at about 8 pm, so there are no finished pictures … maybe when I build the new divider between the two decks!